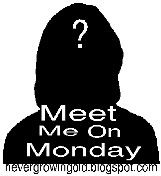 another fun Meet Me on Monday!!
1. Did you watch the Superbowl?
Yes, I sure did and it was a very good game. I never care that much who wins as long as it isn't one of those with scores like 40 to 0. I also was looking forward to cute commercials, but I don't think there were any of what I would call cute. Maybe it's age, but I did'nt understand half of them.
2. What is the last book you read?
Loving history, the last book I read was "Samual Adams" very interesting and different from what I have thought all these years.
3. What is your favorite kind of cake?
That would be chocolate!!! With fluffy white frosting.
4. Do you snore?
I don't know, I am asleep!!
5. Do you play an instrument?
I do play the keyboard, not good, but enjoy playing.